Socks – Bridgedale Endurance Trail Light
This is part of the GearWeAre Sock-Off. See all our sock reviews here


I think I'm right in saying that Bridgedale are the biggest sock company in the World now, so they know a thing or two about keeping toes happy.
And happy indeed have my toes been inside these Endurance Trail Light socks for some weeks now.
On our GearWeAre Trail Test in cold, wet weather they proved very comfortable and despite my boots letting through a little water they kept my feet warm and blister-free.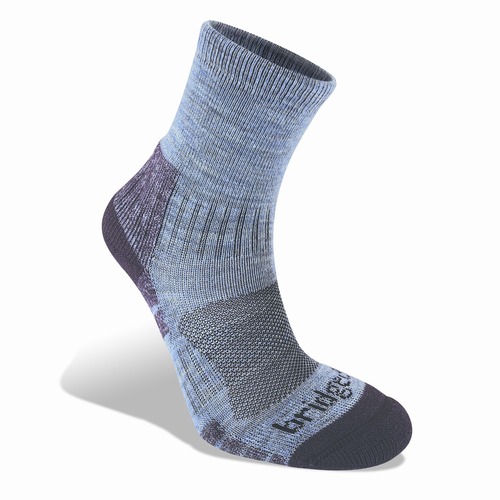 When first putting them on you're aware of how soft and warm they are. The inside is a looped towelling finish, with areas of reinforcement around the heel, arch and toes. The seams are flat-stitched so there's no rubbing. They're an above-ankle design, so come up high enough to tuck trousers into if necessary, and the elasticated tops are snug but not too tight.
They're made from Nylon and Wool, with a little Polypropylene and Lycra. I think it's the wool that keeps you warm when wet, and wool also does something called 'self-lubrication', which means that the fibres give off oils and rub over one another instead of rubbing on your foot so much.
SUMMARY: Very comfy and snug socks. The packet rates them at a 2/5 warmth level, but I'd disagree and say that they're pretty warm on a cold day. They protect the heel and achilles well, and they have a thinner panel on the front of the ankle to help keep you ventilated. I enjoy wearing these socks a lot. Only held back from a 5 rating by virtue of the fact that they're not QUITE as comfortable as SmartWool's Adrenaline Hiking socks.


Price: £5-12 depending on style
From: Amazon
Tags and search info for this review: This is a hiking sock review. GearWeAre.com tests and reviews walking socks, hiking socks, outdoor gear and camping equipment.